This book is divided into two sections. The first section deals with spring-loaded and mechanical fishhooks and metal killer fish traps. The second deals with spring-loaded and mechanical fishing lures and spoons. Each section is arranged chronologically when dates are known, with the oldest items appearing first.
The majority of the items in the book were granted letters of patent from the United States government, which means that each item was unique and had something about it that had been that was substantially different than anything that had been invented before. Since it was patented, one can be assured as to not only where an item is from, but when it was made, by whom it was made and why it was different than anything that had preceded it.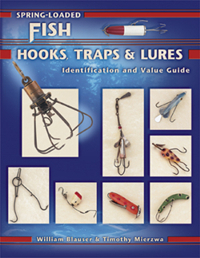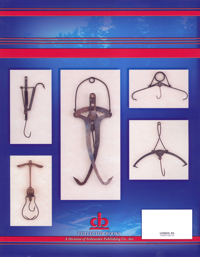 In some instances the items in this book are best represented by use of a computer scan. When noted, these scans are exactly to scale. This is important because many spring-loaded hooks came in different sizes, and when a scan is to scale, a hook may be laid directly on the page to match the size exactly. In other instances, color photographs are used, and in others a combination of the two.
Unless otherwise noted, the items that appear in this book are in the collections of and belong to one of the authors.
Excerpts taken from book forward written by Jeff Kieny of Raymore, Missouri
Tim Mierzwa and Bill Blauser are pioneers, historians and recognized experts in the area of spring-loaded fishhooks, traps and lures. Through diligence, exhaustive research, inquisitive minds, "good eyes," and a penchant for detail, the authors have built world-class collections of mechanical and spring-loaded fishing-related artifacts. While the fertile collecting area of spring-loaded fishhooks, traps and lures has obtained some well deserved attention from the collecting community over the past few years, by and large it remains an obscure area to most collectors of fishing tackle. This book is about to change all of that...
Tim is a man on a mission! With 20 years experience in the field, his specialized knowledge of all things mechanical related to fishing tackle is awe inspiring. Tim is a noted author, having written over 100 articles as a feature writer for the Great Lakes Trader, based in Williamston, Michigan. Topics covered have been wide ranging, from Michigan pioneer life to various collectibles. He has also written for the National Fishing Lure Collectors Club Quarterly Gazette.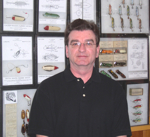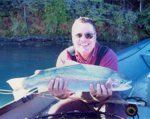 Bill Blauser, born and raised outside of Pittsburgh, Pennsylvania, is also a lifelong fisherman, outdoorsman and collector. A geologist by training, Bill received his undergraduate degree at the University of Pittsburgh and his masters at the University of Texas at Arlington.
Bill has held a lifelong interest in antiques and previously collected antique toys, pottery and folk art. Today, though, his passion is spring-loaded hooks and fish traps. As evidence, he once traded a superb and original example of a Kentucky long rifle to acquire an early fish trap. To contact Bill call (412)373-8203, email [email protected] or write to: 100 Oxford Dr. Suite 919, Monroeville, Pa. 15146.
Both authors reside in the heart of an area stretching from upstate New York through the Great Lakes region to Minnesota that is rich in fishing history and renowned as the center of the universe for all manner of hooks, gaffs, spears, harnesses, fish decoys and lures. They are both active members of the National Fishing Lure Collectors Club and the North American Trap Collectors Association.
To learn more about the authors, Tim Mierzwa and Bill Blauser order your authographed copy of Spring-Loaded Fish Hooks, Traps & Lures today.